EARTH ~
Eric Gill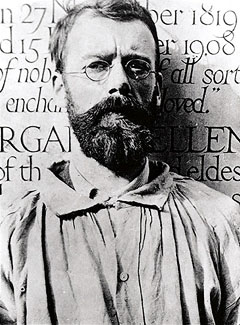 AKA Arthur Eric Rowton Gill
Born: 22-Feb-1882
Birthplace: Brighton, Sussex, England
Died: 17-Nov-1940
Location of death: Uxbridge, Middlesex, England
Cause of death: Complications of Surgery
Remains: Buried

Gender: Male
Religion: Roman Catholic
Race or Ethnicity: White
Sexual orientation: Bisexual
Occupation: Typographer, Sculptor
Nationality: England
Executive summary: Typographer, Gill Sans
Military service: British Royal Air Force (1918)
Studied calligraphy with Edward Johnston, author of the font used on London Underground signage, upon which Gill's ubiquitous Gill Sans is based. Gill also authored the seriffed fonts Perpetua and Joanna.
Lived in a bohemian artists' community in Ditchling, Sussex, from 1907-24. Numbered among its residents was author G. K. Chesterton. Gill founded two other such communities in his lifetime.
The Fiona McCarthy biography of Gill alleges, based on study of his meticulous diary, that Gill committed incest with both of his sisters and two of his daughters; Gill also mentions tersely that he "continued experiment with dog after and discovered that a dog will join with a man."
Father: Arthur Tidman Gill (non-conformist minister)
Mother: Cicely Rose King Gill
Brother: Cecil Ernest Gaspar Gill (physician)
Brother: Kenneth Gill (d., plane crash)
Brother: Vernon Gill
Brother: Evan R. Gill
Brother: MacDonald Gill (cartographer)
Sister: Angela
Sister: Gladys
Sister: Enid Clay
Sister: Cicely (d. 18-Jan-1897)
Wife: Mary Gill (Ethel Hester Moore, b. 1878, m. 6-Aug-1904, d. 1961, 3 daughters)
Daughter: Betty (b. 1905)
Daughter: Petra (b. 1906)
Daughter: Joanna (b. 1910)
Son: Gordian Gill (adopted 1917)
Mistress: May Reeves

High School: Technical and Art School, Chichester, England
University: Calligraphy, Central School of Arts and Crafts, London, England (1902)

Fabian Society 1905
Royal Academy of Arts Associate (1937)
Royal Institute of British Architects Honorary Associate (1935)
Royal Society of British Sculptors Honorary Associate (1937)
Society of Wood-Engravers
Converted to Catholicism 22-Feb-1913
Nervous Breakdown 1930
Risk Factors: Smoking, Lung Cancer

Is the subject of books:
The Life of Eric Gill, 1966, BY: R. Speaight
Eric Gill, 1966, BY: R. Brewer
Eric Gill, The Man Who Loved Letters, 1973, BY: R. Brewer
The Letter Forms and Type Design of Eric Gill, 1976, BY: R. Harling
Eric Gill: A Lover's Quest for Art and God, 1989, BY: Fiona MacCarthy

Author of books:
Essay on Typography
(
1931
, typography)
Autobiography
(
1940
, memoirs)
PLUS!

http://www.nytimes.com/2011/12/24/arts/design/printing-for-kingdom-empire-republic-review.html?hp
www.nndb.com
figure : eric gill
ny times